Внимание с 1-го февраля 2023 стоимость обслуживания будет 180 рублей в месяц за устройство
Waterproof LTE CAT 1 terminal with RS485/RS232 interfaces and backup battery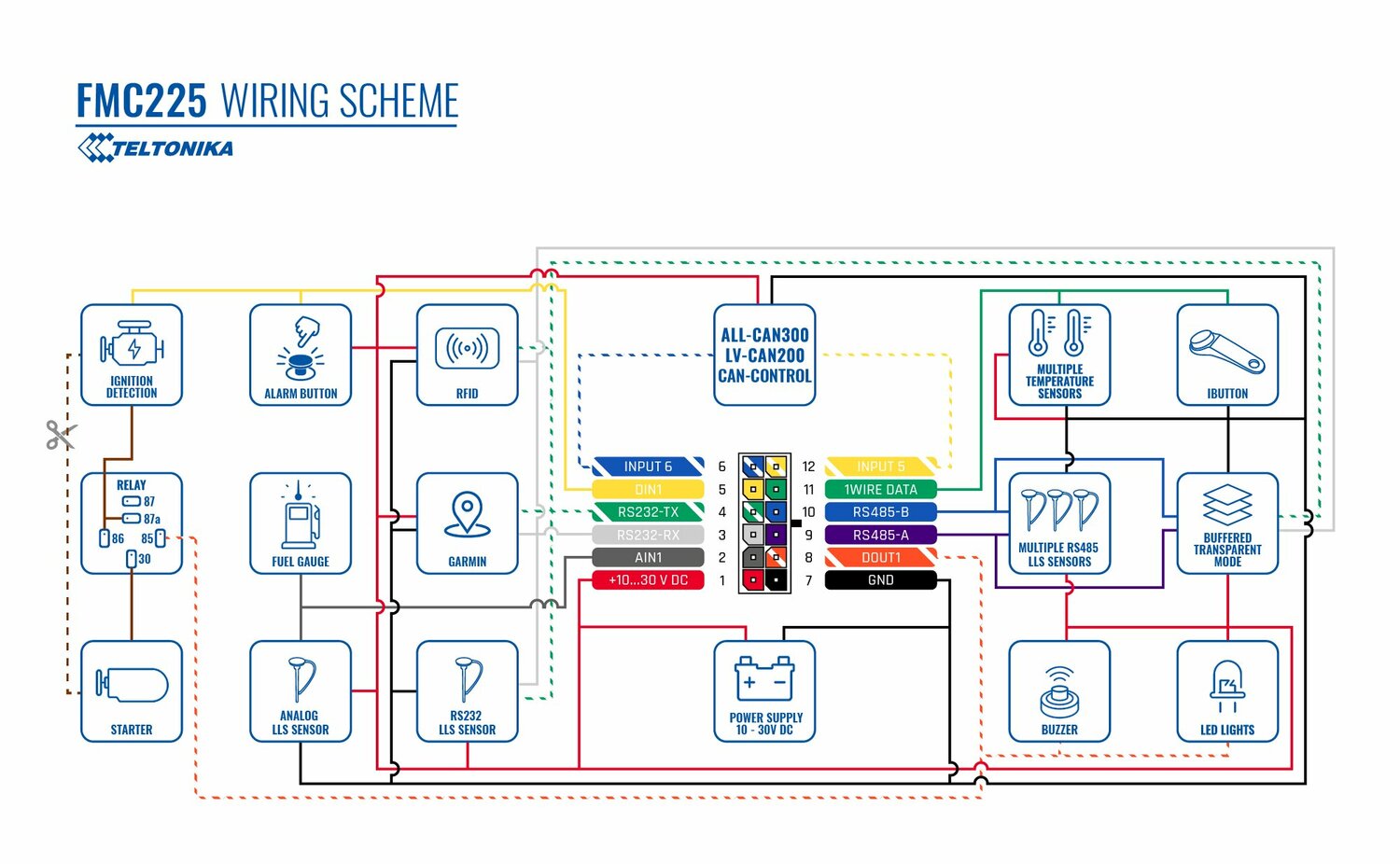 FMC225 is WATER AND DUST RESISTANT tracker with 4G (LTE Cat 1) network coverage including 2G (GSM) fallback compatibility. Device equipped with GNSS/Bluetooth and LTE modules, internal GNSS and LTE antennas.
FMC225 developed on the existing Teltonika platform, therefore it keeps all of the functionalities from FMC125 with an additional IP67 resistance to dust and water.
This tracker is dust tight and protected against the effects of a temporary immersion in water. It can be mounted inside and outside of a vehicle without worries that high pressured water, mud or dusty environment will impact its operation or performance quality. This is particularly relevant for the industries where harsh conditions exist, such as agriculture, construction and mining, and more.
Device is designed for communication with various third party RS232 or RS485 devices, like digital fuel sensors (LLS), Garmin navigation device, RFID reader and much more. The Dual-SIM feature provides a backup communication channel where the coverage of a singular operator is not sufficient. As well Dual-SIM feature will let you significantly reduce roaming costs.
It's just a small part of existing functionality but it allows to make FMC225 even better.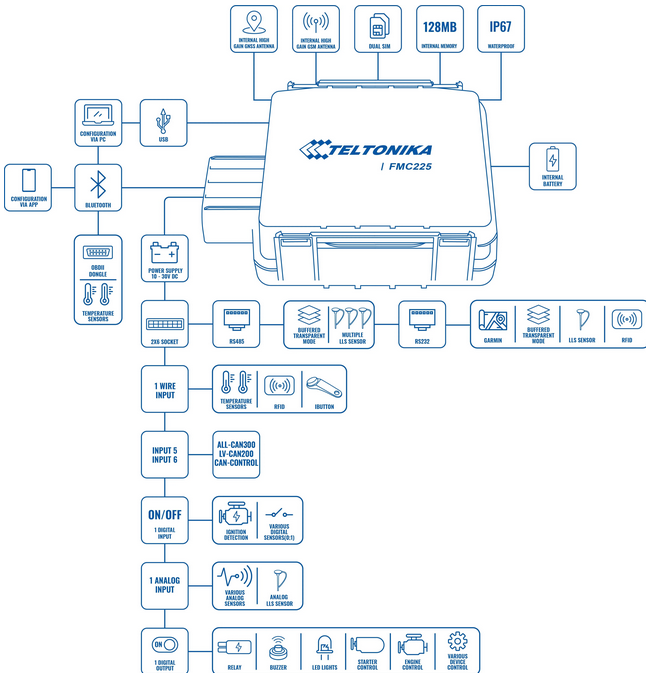 teltonika, fleet management, fmb series, gps tracker, fmb920, fmb010, fmb001, fmb122, fmb120, fmb, gnss tracker, tracker, teltonika telematics, ip67 device, ip67 gps device, ip67 gps tracker, ip67 dustproof, ip67 dust, ip67 rating, ip67 grade, ip67 casing, ip67 waterproof casing, teltonika ip67 trackers, fmb125, teltonika trackers, vehicle tracker, ip67 rating casing, car tracking device, ip67 waterproof, vehicle gps tracker, ip67, ip67 tracker, towing detection, towing scenario, towing, fmb1, vehicle theft, teltonika towing detection, harsh braking, towing detection scenario, fmb0, teltonika towing, fmb9, teltonika vehicle gps rackers, car tracker, ip67 test gps tracker for car, ip67 enclosure, external power event, cut off, configuration, events, cut off event, harsh cornering, gps tracking, gps antitheft, gps, galileo, lithuania, europe, glonass, vehicle tracking, sleep, online deep sleep, tracking, green driving, sleep mode, harsh acceleration, user guide, vehicle lift detection, how to secure car, help, power saving, eco driving, ip67 waterproof rating, deep sleep, antitheft, automotive, gps tracking devices, sea tracker, agriculture tracker, river tracker, vehicle tracking device, fmc230, teltonika gps devices, teltonika gps trackers, gps fleet tracking, ocean tracker, desert gps, ip rating tracker, ip tracker, fmm2, fmc2, waterproof gps, waterproof gps tracker, desert tracker, dust gps tracker, dust protection gps, teltonika ip67 devices, fmb1yx, telematics dakar, protection, starter control, fmc125, teltonika dakar, fmb900, debug, android, dakar2022, relay, 1-wire, fmb202, fmb204, fmb206, fmb207, fmb2, dakar, ibutton, authorized driving, imobilizing, log
Поиск информации по сайту мониторинга транспорта
TREKBERRY
© TREKBERRY 2017-2023, Дмитрий В.М. Все права защищены.
Копирование материала без ссылки на источник запрещено. Информация размещенная на сайте не является публичной офертой. Часть текстов написано нейросетью ChatGPT может содержать не точности.